PROJECT:
In 2019, I was tasked with auditing all communications LendingClub members received post-acquisition. The entire customer journey and communication flow includes over 2200 possible emails, chat snippets, SMS messages, help center articles, and social media responses the member might engage with throughout their customer life cycle.
When I started the audit, many of the communications hadn't been touched or updated in several years except to make minor changes due to legal and compliance requests.
PLANNING:
To start the project, I read through every path the members might experience from beginning to end taking careful notes on any areas where there were continuity errors, unclear explanations, excessively dense copy, or jargon. I determined I would start on those messages first.
After prioritizing all 2200+ pieces of content, I worked with the brand and marketing teams to build out the set of rules that is now our style guide.
Once I had a style guide and a priority list, I began writing copy.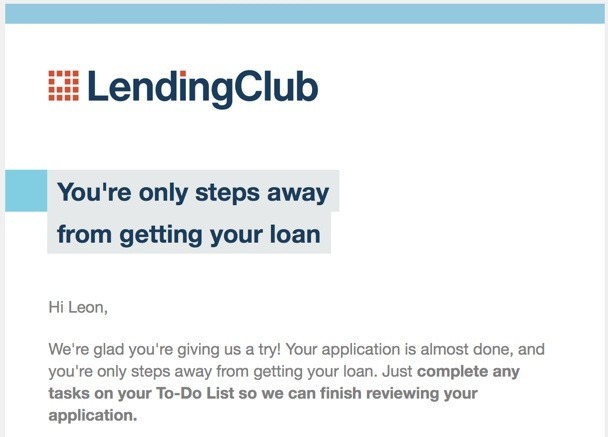 WRITING:
Given that LendingClub is in the financial industry, I felt that focusing on plain language would be key. I started each piece of content by reading and re-reading the existing piece to identify exactly what information was vital to the member, and rewrote that information in a simple, clear way. All other information was removed from the communications.
In addition to simplifying the information and using plain language, I also removed all visual cues such as bolding, italics, and color from the communications then used them purposefully to help members understand when and how they could self-serve.
Because finance is such a highly regulated space, I would work cross-functionally with members of the payments, member support, consumer advocacy, credit, auto, auto equity, customer development, legal, and compliance teams for each piece of content to ensure that they met the needs of the members and the team. I also worked with the compliance team of our banking partner to ensure every piece of content could hold up to scrutiny if needed.

RESULTS:
In my first nine months at LendingClub, I had rewritten over 2100 pieces of content and we started to see significant improvements in our customer satisfaction (CSAT) scores. In less than a year, the new content led the way to a 20% improvement in CSATS. We also saw a 14% month-over-month decline in incoming support tickets suggesting that not only were members more satisfied with the updated content, they also were having their questions answered without even asking.